Wed., October 7th is a scheduled eLearning Day for parent/teacher conferences. Each school has shared attendance and academic expectations. See the flyer for details about grab-n-go meals!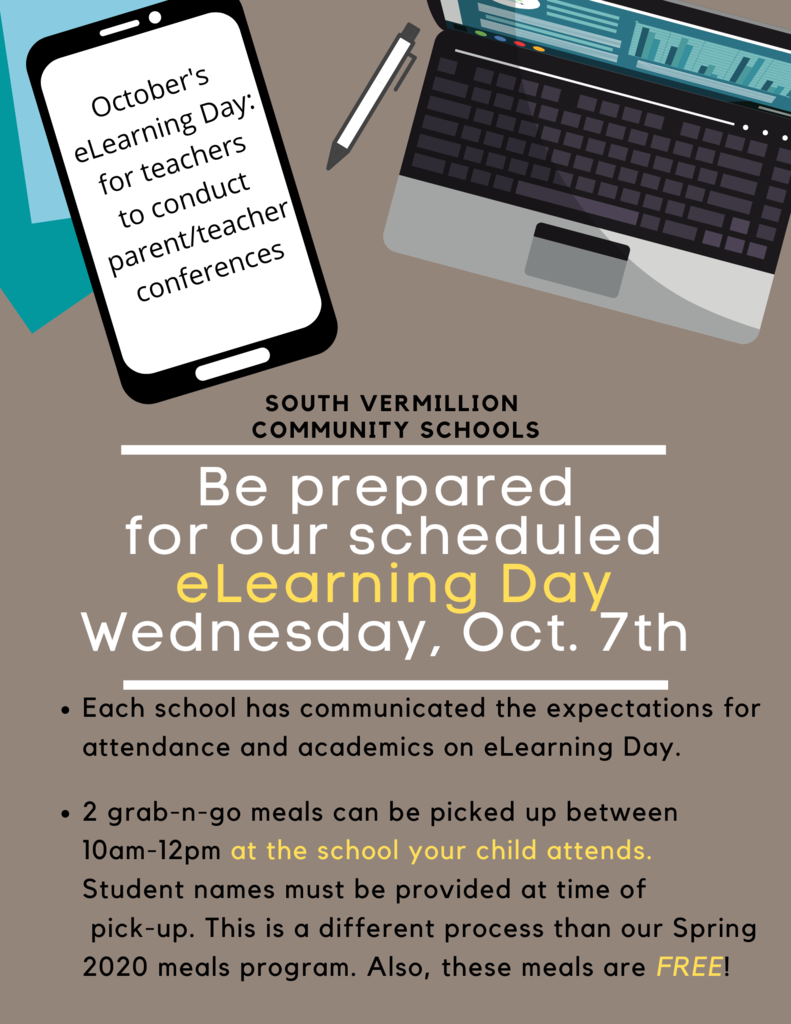 We are excited to announce that, beginning tomorrow, South Vermillion will be participating in the New USDA Waiver that allows ALL students, currently enrolled in our corporation, meals at no charge! This includes breakfast and lunch each school day. Any adult meals, extras or ala carte items will still be your responsibility. We have been informed that this USDA program is set to expire on December 31st or if we receive notice that funding for the program is no longer available, whichever comes first. This program is retroactive to the first student day, August 10th. Meals purchased from this date forward will be credited back to your child's lunch account. I'D LIKE TO ENCOURAGE OUR VIRTUAL STUDENTS TO PARTICIPATE, AS WELL. If you are interested in picking up meals for your virtual student, please contact your child's school and ask to speak with the cafeteria manager for ordering and pick up options. In the event that your child's school should close for eLearning, we will continue to provide two "grab and go" meals each school day. In addition to this exciting news, I'd like to remind you that applications for state assistance are required each school year for those who qualify. If your student receives free or reduced meals and textbook assistance you are still required to complete an application for this school year. If you have not yet done so, please submit a web application through Harmony or contact your child's school for a paper copy. We hope you will encourage your students to eat a nutritious breakfast and lunch at school every day! Stay Healthy!

SV is currently taking applications for several cafeteria staff positions.  If you are interested in joining our crew or substituting in our kitchens please pick up an application at the Superintendent's Office or contact our Food Service Director at 765-832-3551 ext. 2002. 

SVHS will return to normal "in-person" operations beginning tomorrow. All schools will return to "Green" status effective tomorrow as well.

💻National Information Technology Professionals Day🖥 to the glue that is keeping us together these days! #ITProDay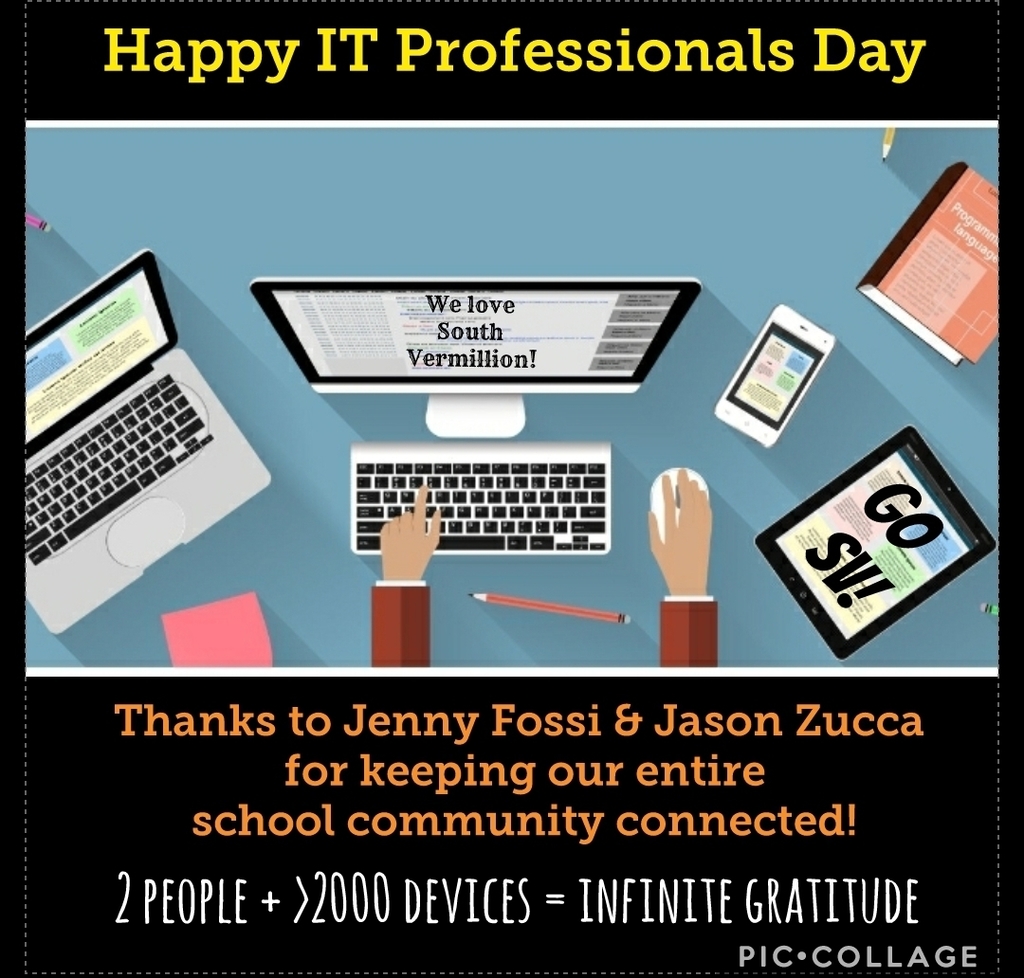 WHO NEEDS HELP WITH SCHOOL WORK!? Call 1-877-45-STUDY This free resource beings on Sept 15th thanks to the Indiana Retired Teachers Association, retired teachers of AFT, and Indiana State Teachers Association!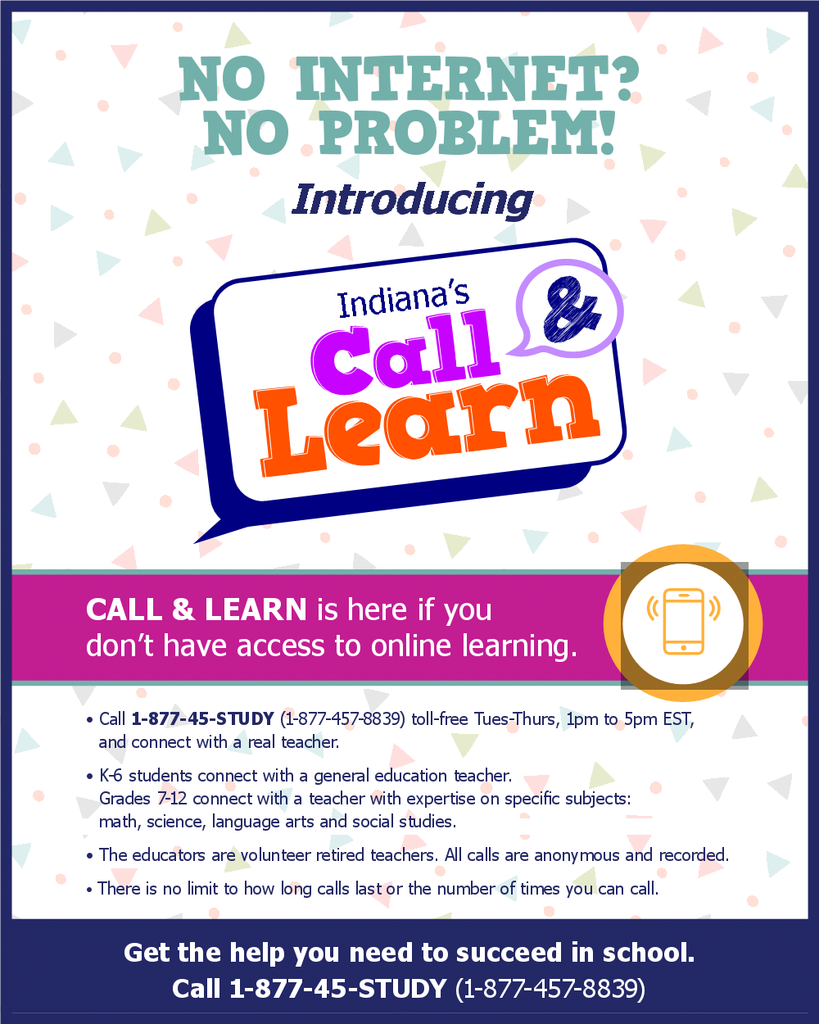 Statement from Superintendent Chapman regarding SVHS COVID and eLearning.

Due to multiple staff members testing positive for COVID-19 Virus, South Vermillion High School will operate on eLearning status for the week of Sept. 8 - 11. This only affects SVHS. All other schools will operate under normal conditions. SVCS is working closely with the Vermillion Co. Health Dept. to determine "close contacts" and contact tracing procedures have begun. Further updates will be provided as they become available.

Confused about the different ways SV stays in touch? Want to make sure you have all the tools necessary to be informed of student progress? View this presentation to be prepared & "in the know"!
http://bit.ly/SVUpToDate

EVERY PERSON counted in the Census = more support for our schools, students, & county. LOOK how close we are to beating our 2010 Census completion rate & the current state rate! Sept. 30th is the deadline to complete the 2020 Census. Help us grow!
https://2020census.gov/en.html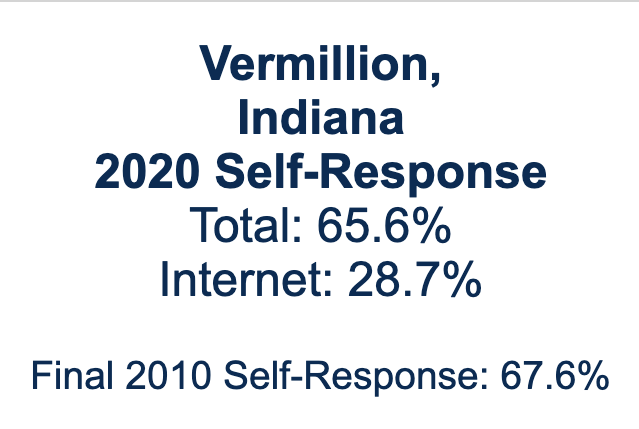 Every South Vermillion employee plays a role in our success. The work is important, the stakes are high, and the gratitude is "sweet". We are #INthistogether.

Please read letter from Superintendent Chapman regarding Labor Day weekend.

SVCS will operate on a two-hour delay today due to the dense fog advisory.

Please review Appendix B of South Vermillion's Re-Entry Plan. The documents give a complete overview of the newest guidelines for our schools.

What a nice surprise donation from a community member who also thanked Mr. Chapman for keeping the community informed and our schools safe! These masks are so appreciated and will be put to good use right away.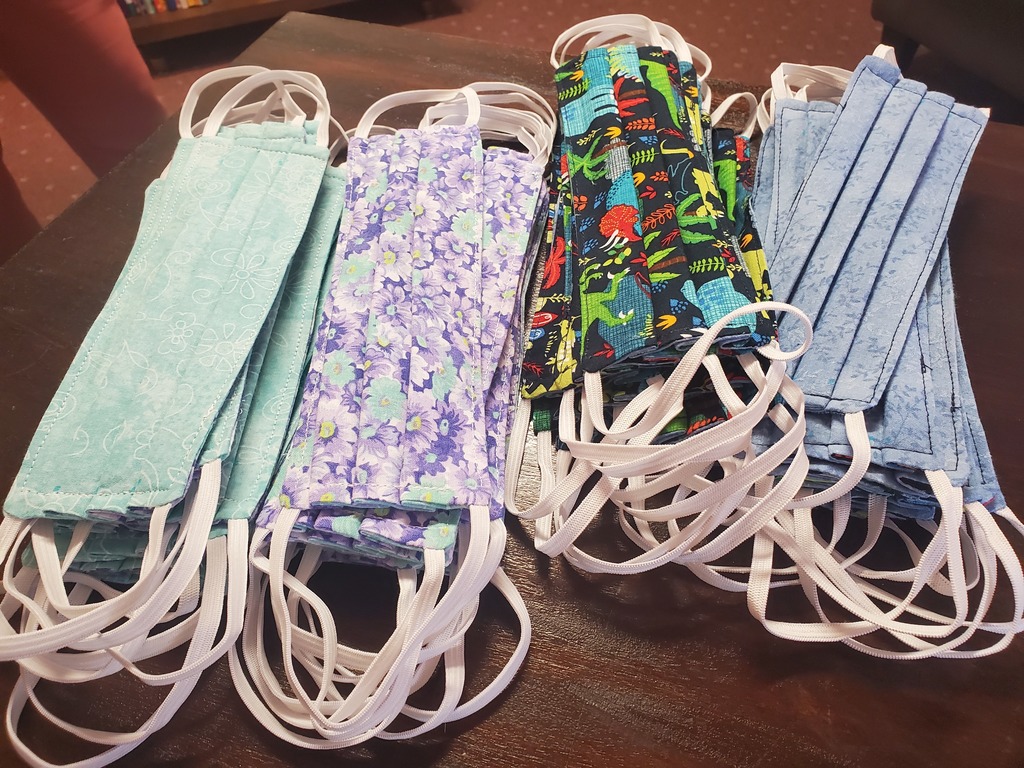 SVVS Students: Courses have been/continue to be uploaded. Be sure to check the Message Center/In Box for important info from your virtual teachers.

Exciting News for South Vermillion Community Schools!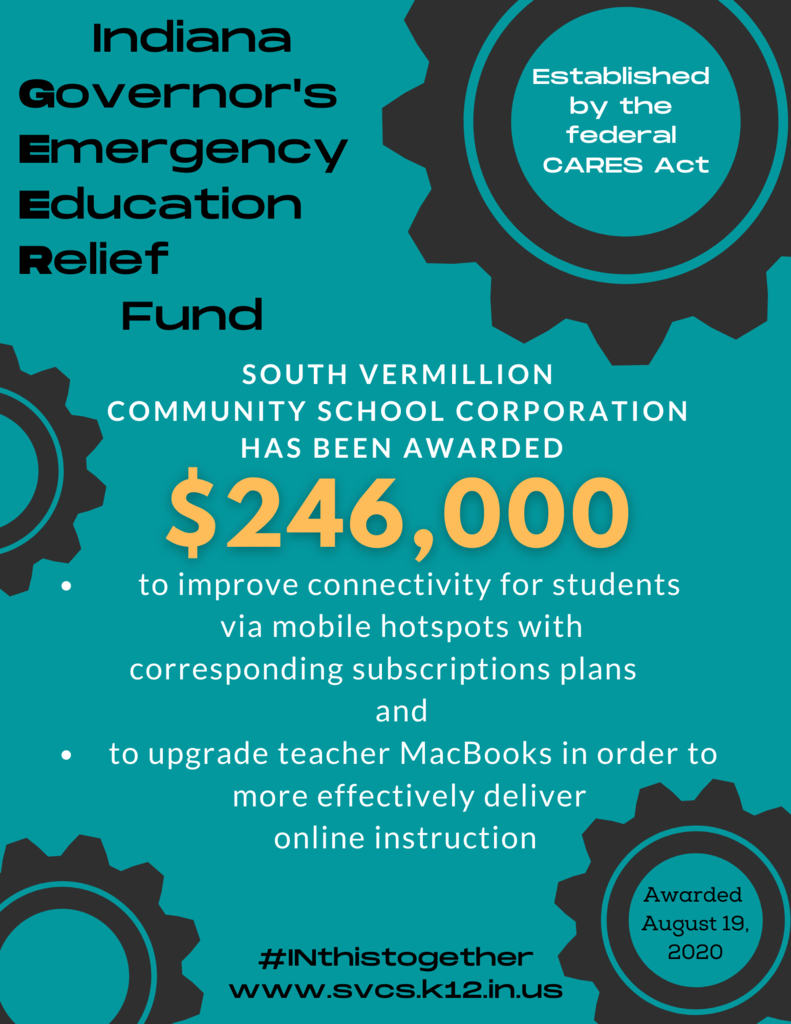 If your child needs immunizations, the Vermillion County Health Department is holding an immunization clinic on Thursday, August 20, from 1pm-4pm. Please call 765-832-3622 to see if you're eligible for their services and make an appointment. Thank you.

Virtual students - As your online classes begin, updates will now come from your online instructors. Be sure to check your Edmentum Message Center daily as many instructors are already reaching out.