The month's Staff Spotlight is on Kim Benton, we appreciate all that you do to safely transport our students to and from school!
https://youtu.be/ZQS3XxpYXdk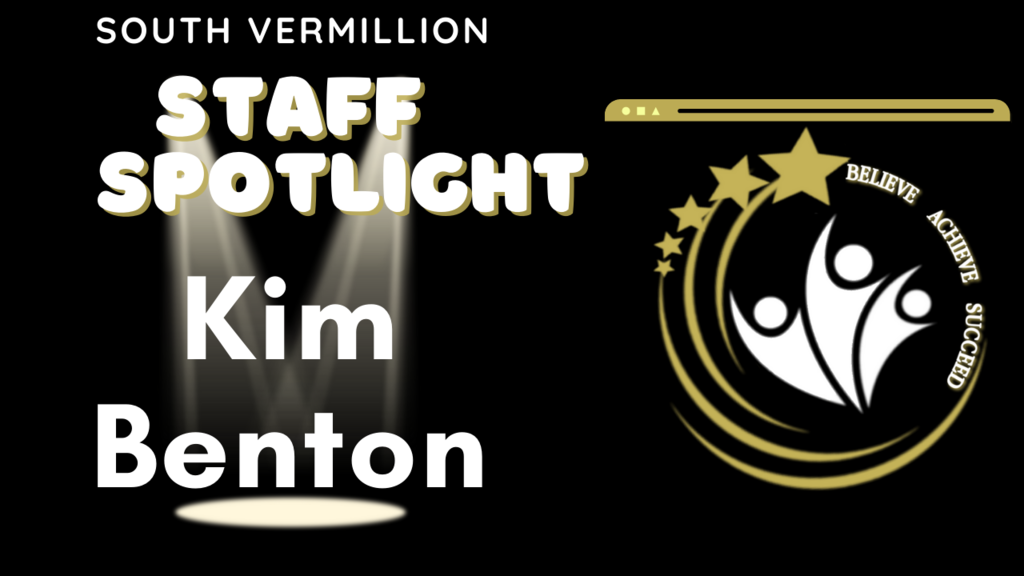 Report of SVHS Shooting Incident: At approximately 9:35 am it was reported that there was a gunshot heard in the vocational area of the high school. The school was immediately placed on "hard" lockdown and law enforcement was notified. The incident was in the Law Enforcement classroom where the instructor was going over drills with the students when he accidentally drew his firearm instead of his training weapon and discharging it toward a student. The student was hit by the bullet, suffering a non-life threatening, superficial wound. The instructor immediately began first aid. Within minutes, emergency personnel and law enforcement arrived on the scene and began assisting the injured student and eventually transported him to a hospital in Terre Haute, accompanied by Mrs. Skinner. Mrs. Skinner had notified the parents and they met at the hospital. It needs to be clear that this was an accidental shooting and that at no time were the students and staff at the high school in any danger or threat. The Vermillion County Sheriff's Office requested (as is the norm) that the Indiana State Police conduct an investigation of the incident, including interviewing all students in the classroom, the injured student, the instructor, as well as other school personnel. During this time, the school remained on lockdown while the law enforcement personnel where on the scene. It should be noted that no students were permitted to leave until such time that the ISP determined it would be acceptable based on their investigation. A number of parents had arrived to the school to pick up their children and were told that until the ISP cleared the school to release the students, they were to stay in place. Parents on-site were understandable and once we had the "all clear" from the ISP, we let the parents know that we would release their children to them upon the parents signing them out. Students were then contacted on an individual basis and escorted to the office and released to their parents. Again, there was no imminent danger or threat at any time at SVHS during this time. Our efforts were to minimize the false narratives of what occurred and to reassure everyone that the situation was isolated and accidental. By 11:45 am, the school was resuming normal operations, as much as possible and that lunch periods were held normally. The classroom where the incident occurred and the hallways leading to it were roped off were closed until such time that the ISP detectives completed their assessment of the area. I would like to thank the SVHS administration and staff for their leadership and cooperation in the emergency protocols that were enacted to perfection. I would also like to thank all the law enforcement agencies and emergency personnel that were on the scene in a matter of minutes. Their presence and professionalism was beyond reproach. The South Vermillion School Corporation community is extremely grateful that this incident has had a positive ending. Dave Chapman Superintendent

This morning at South Vermillion High School, there was an isolated incident in one of our vocational classrooms. The incident was an accidental discharge of a firearm by a law enforcement officer during a drill. One student was injured without life-threatening injuries and has been taken to the hospital. Only SVHS is currently on lockdown, due to the abundance of emergency personnel in the building.

⚛️IT'S NATIONAL STEM DAY!⚛️ Here's a short list of the progress we've made in meeting the state's requirements (ahead of schedule --and in spite of the pandemic!) for integrating Computer Science and STEM at every grade level in this mighty little district! Not anything new for SV, just continuing to provide and grow what the evolving workforce needs from our graduates!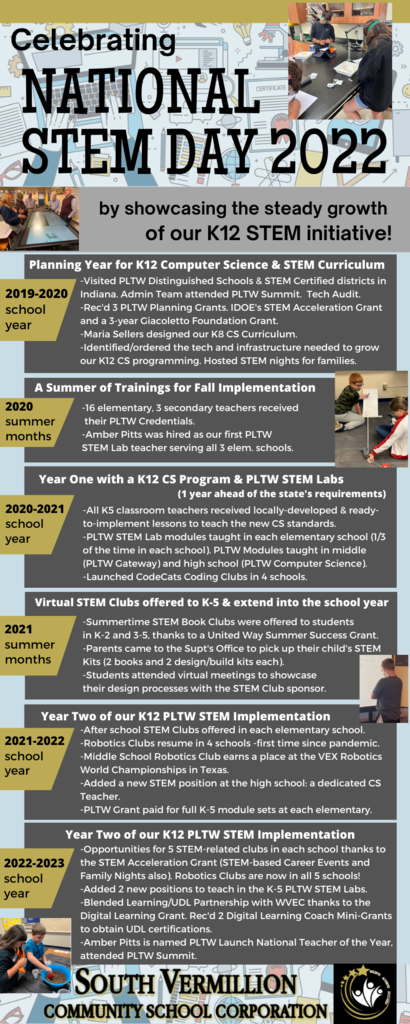 Our K12 STEM program appreciates the support of the Giacoletto Foundation, and we were happy to host Foundation Board Members in September. Current grants are supporting the high school computer science CyberLab and SV representation at the PLTW-STEM Summit in late October. John & Lawrence Giacoletto graduated from Clinton High School in the 1930s. Both boys graduated from Rose Hulman with degrees in electrical engineering. The Giacoletto Foundation also funds a scholarship through Ivy Tech for a Wildcat senior pursuing a tech-related degree! Two very successful Wildcats whose legacies are now supporting current and future Wildcats.....WE LOVE THIS!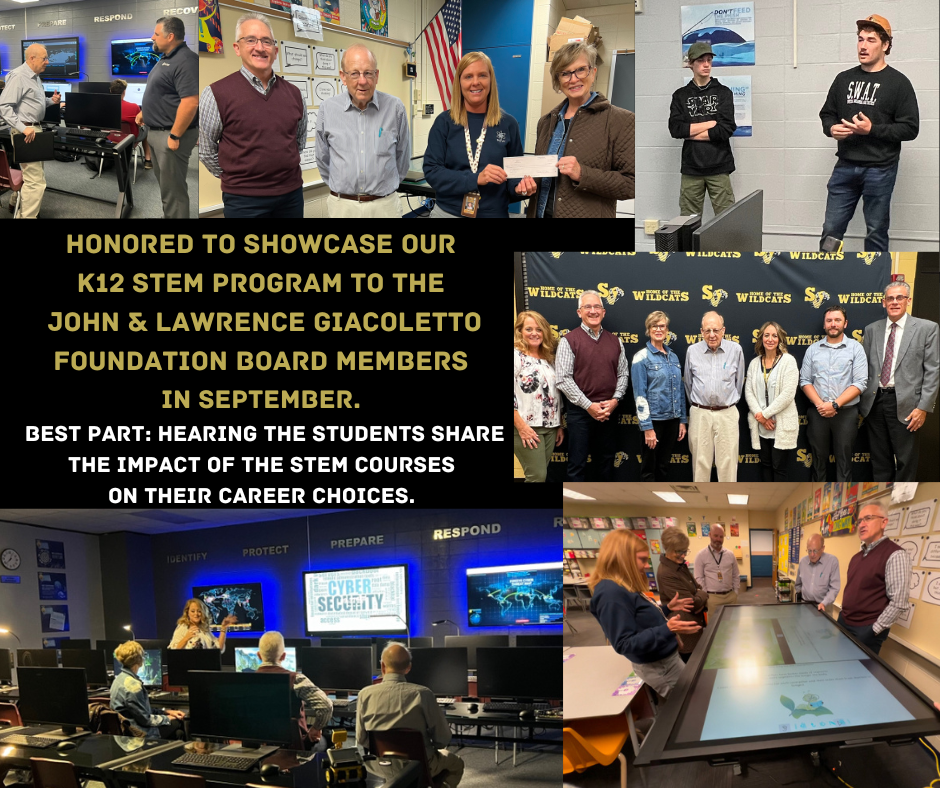 It's time for our annual K-5 Title I Family Involvement Night! If you've scheduled a parent/teacher conference on 10/6, stop by the Title I table to pick up your 📚🍿family involvement literacy kit🍿📚! Don't have a scheduled time on 10/6 to meet with your child's teacher? You are still welcome to come pick up your kit during the times listed on this flyer! Notice the daytime opportunity as well!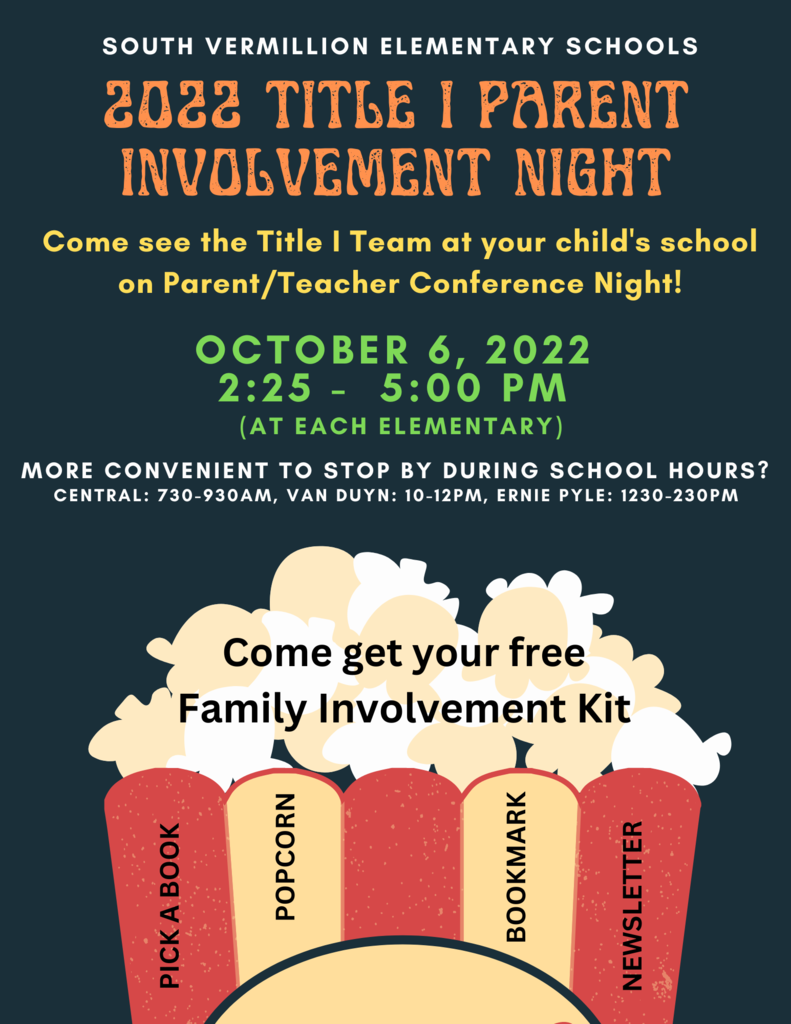 How cool is it when South Vermillion teachers are not only recognized as leaders in their field, but also invited to pay it forward to lead other Indiana teachers?! It's cool. It's very cool.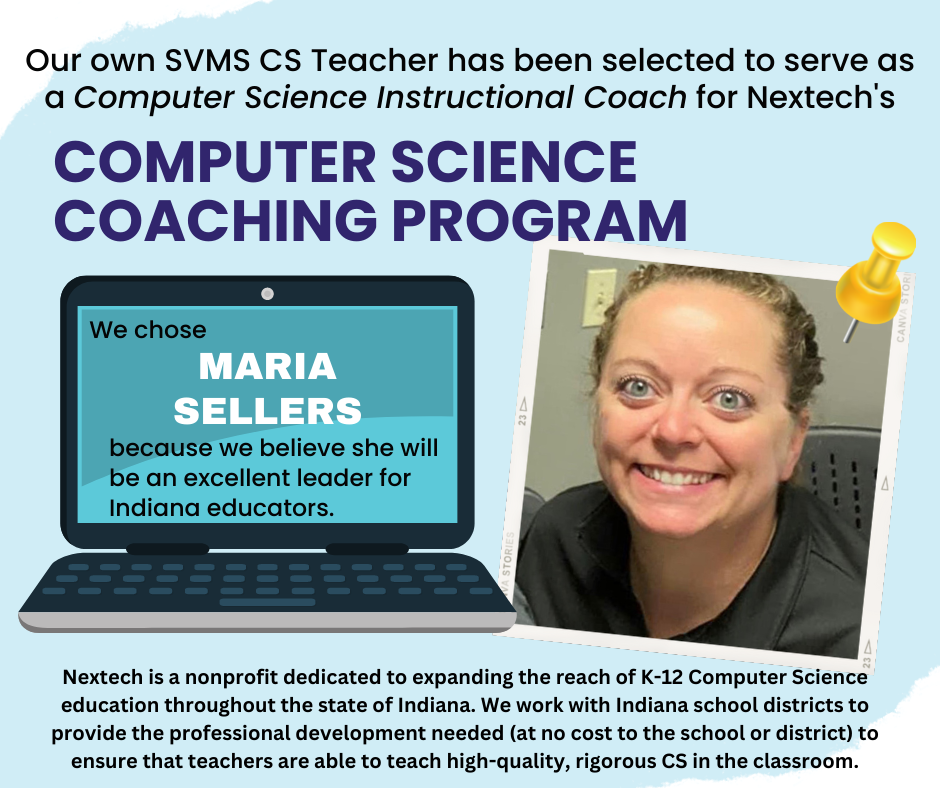 Next week, Oct. 3-7, South Vermillion Schools will be having "early release" each day. Teachers are hosting Parent-Teacher Conferences Monday-Thursday, and Friday is our regular early release day.

Peep the deep thinking of SVMS student Jacob Lawson using the @PLTWorg APP CREATORS curriculum and our Newline interactive displays (and listen to his teacher narrating his steps)!
https://youtu.be/LLQqIW-bBpI
Computer Science skills for days at SV......180 of them to be exact!

Hey, how's that STEM program going? Oh we're just out here winning national awards for our K-5 Project Lead the Way STEM Program at all 3 elementary schools! @PLTWorg LET'S GO AMBER PITTS!
https://youtu.be/SjuqSSjVkuA

👨‍💻Help us thank our IT Professionals today!👩🏽‍💻 They do so much behind the scenes (sometimes at the oddest hours) to keep our systems running so we can all keep teaching and learning!

Sometimes getting your child to the dentist is hard! The Valley Professionals Community Health Center is trying to help. If you don't have a dentist that your child sees regularly, please make sure to check your child's folder or backpack this week for the flyer being sent home regarding School-Based Dental Services. The VPCHC can now provide dental exams by a state licensed dentist at school during school hours, but only if the student is registered for their services. VPCHC is waiting to see how many sign up and then visits will be scheduled at the elementary schools on the reserved dates of 9/29/22 or 10/4/22. If interested in this opportunity, please contact the VPCHC Dental Program at (765) 492-8099.
https://5il.co/1i5r6

This is just a reminder that tomorrow is a REGULAR school day, not an eLearning Day. There is apparently confusion regarding the school calendar for tomorrow, which can be found on the SV website.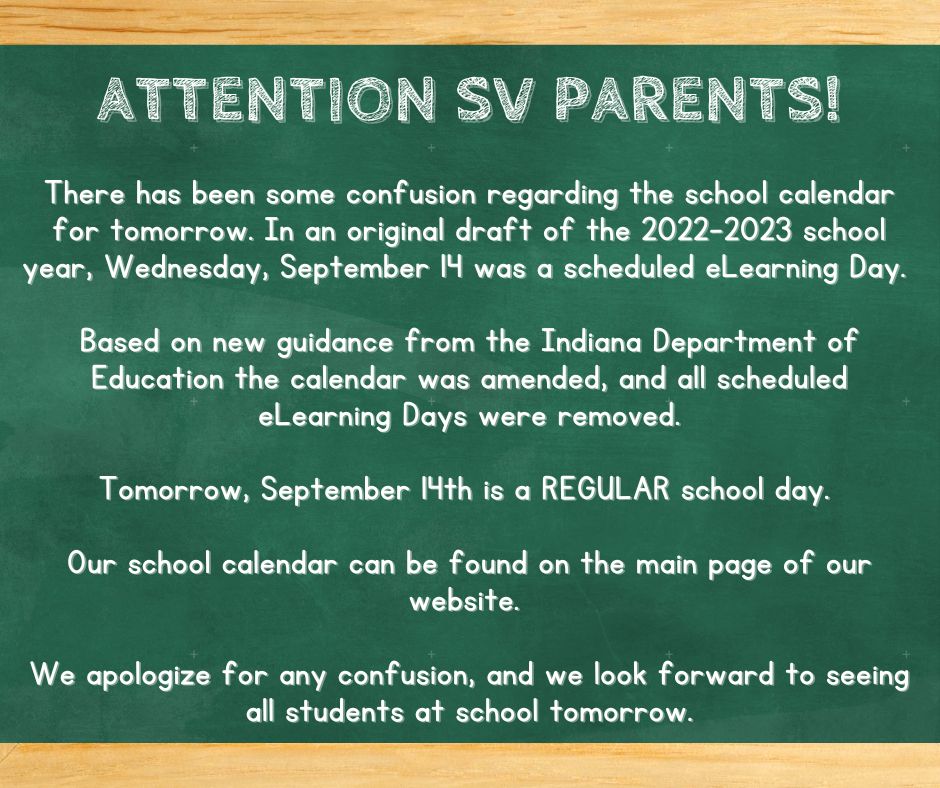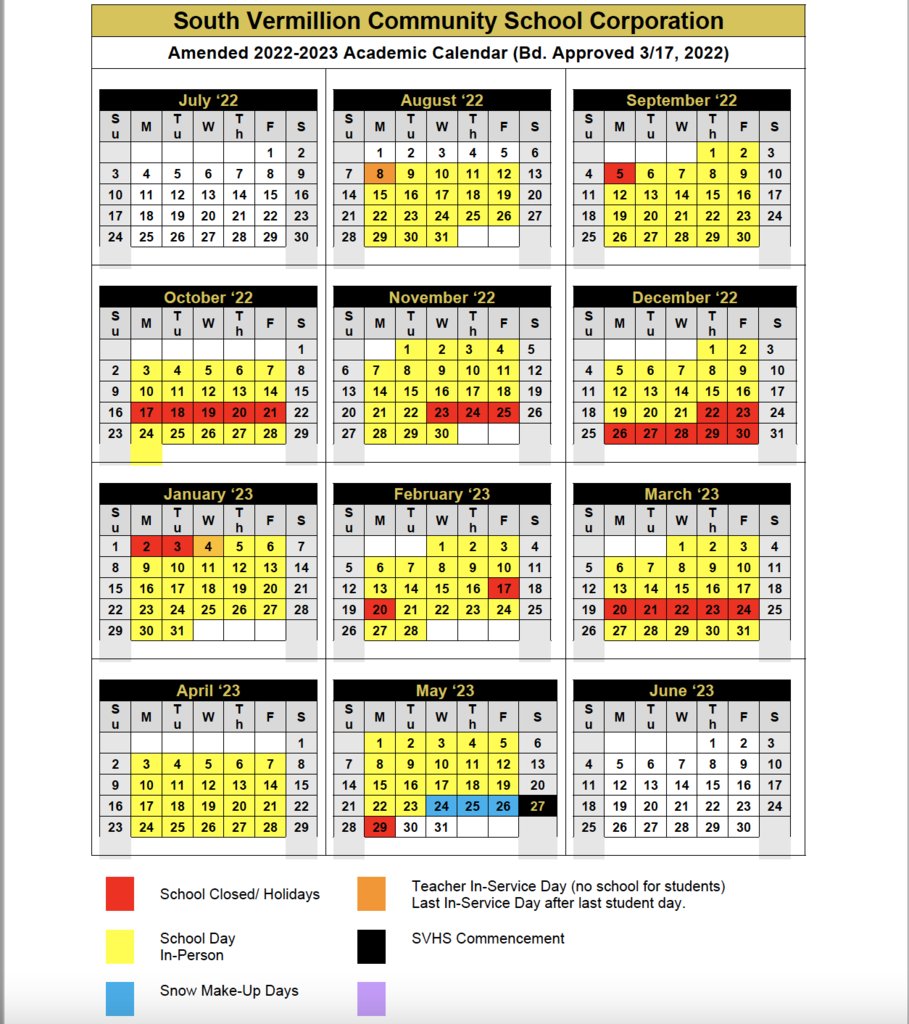 Elementary Schools will be holding their annual Vision Screening for students in Kindergarten, 1st, 3rd and 5th grades. Please see flyer for more information.
https://5il.co/1hti9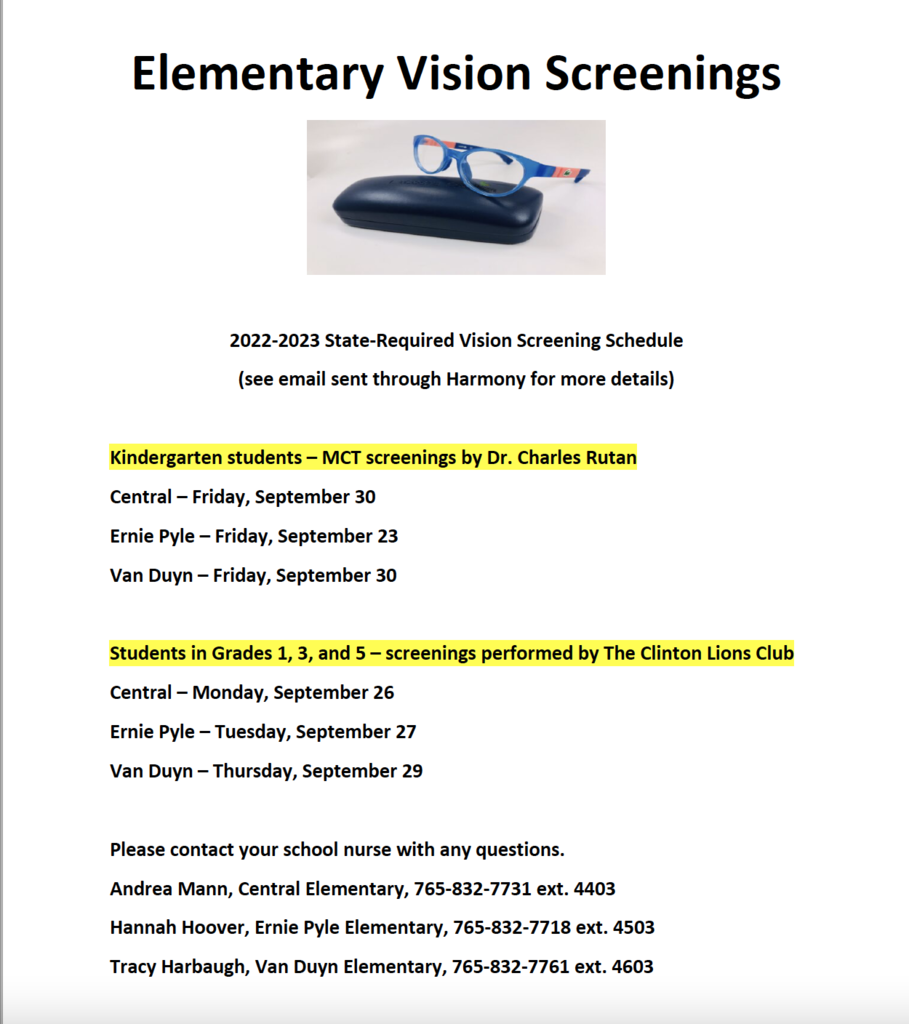 BIG NEWS: Our very own Amber Pitts, SV's first Project Lead the Way K-5 STEM Lab Teacher has been named the 🏆2022-23 National PLTW K-5 Launch Teacher-of-the-Year🏆 for her commitment to stand-up, show-up, and step-up for our students through our district's K-5 PLTW Launch program. For the past 2 years, she has taught all students at Central, Ernie Pyle, and Van Duyn. This year we have added 2 additional PLTW STEM Lab Teachers/Math Interventionists, and Amber will be at Central Elementary all year. How lucky are our elementary students this year?! Check out the PLTW Virtual Yearbook at
https://bit.ly/3wBats0
#PLTWCelebrate #PLTW @PLTWorg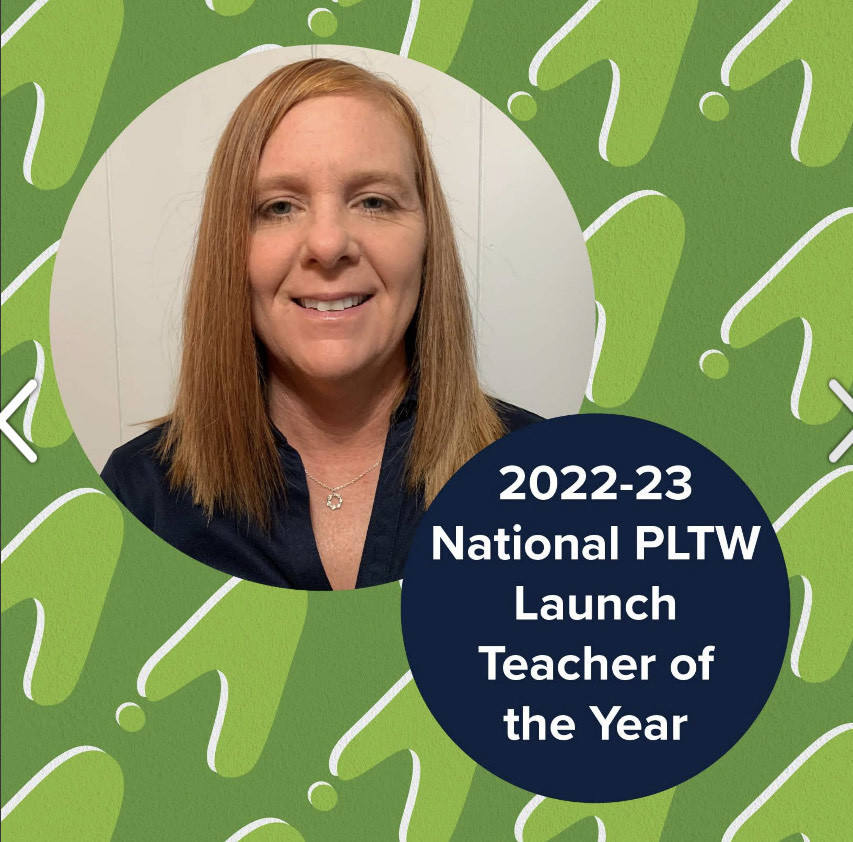 The Indiana FSSA has released guidance regarding summer P-EBT for students who receive financial assistance. Visit the Indiana FSSA website for additional information.
https://5il.co/1gwkh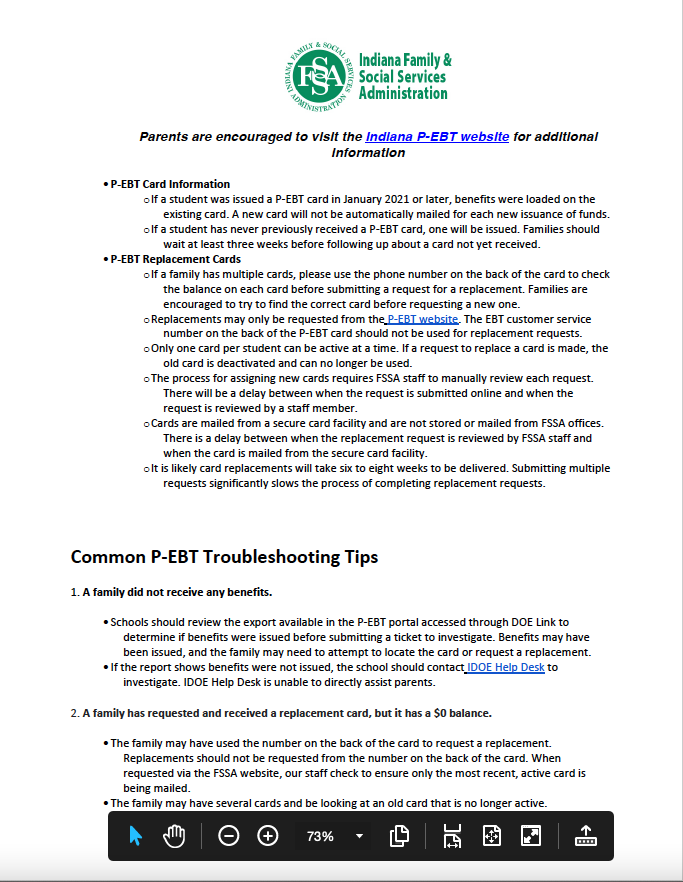 It's Friday! We made it through the 1st week of school! As a reminder, we begin our 30 minute early release time today, and every Friday, unless otherwise announced. Students will be dismissed 30 minutes early today. Have a great weekend!

The 2022-2023 school year starts tomorrow. That means school buses are out and about. Please be alert and use extra caution in the mornings and afternoons when buses are on their routes.

WELCOME BACK STUDENTS and STAFF! The 2022-2023 SV school year is about to begin. Our "Back To School Breakfast Meeting" for all staff is Monday and the students first day is Tuesday. I hope everyone is excited and ready to go. I'm looking forward to a great year!

Here are the start and end times for South Vermillion Schools. SV will continue to have 30 minute early dismissal on Fridays. ⏰