SVHS Veteran's Day Program will be available to view at 10:45 am today. Thank you to all of the students and staff who worked to create this program honoring our Veterans!
https://youtu.be/T0TG36mCKZQ

To all of our veterans...Thank you for your service to America and for your efforts to protect our cherished freedoms!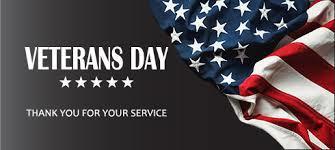 🥪🥛🍎FREE MEALS (1 breakfast/1 lunch) are available for pick-up at SVHS on each day of eLearning from 10am-12pm for SVHS students. Please stop by or send someone to get them for you. Student names are all we need. Help us spread the word to SVHS students. Be safe Wildcats!🍏🥛🥪

Please remember: If you (or your child) feel ill or have the following symptoms, please stay home. 1. Fever of 100.4 or higher 2. Coughing 3. Shortness of breath. 4. Sore thoat 5. Loss of taste and/or smell We need to be vigilant in our efforts to keep school open for our students and staff. We need everyone to be proactive. Wear your masks whenever and wherever possible. Maintain social distance whenever and wherever possible. Wash your hands as frequently as possible.

SVHS will begin eLearning Tuesday 11/10 for the remainder of the week. All extra and co-curricular activities at SVHS will be suspended. Status will be reviewed Friday. Full statement attached.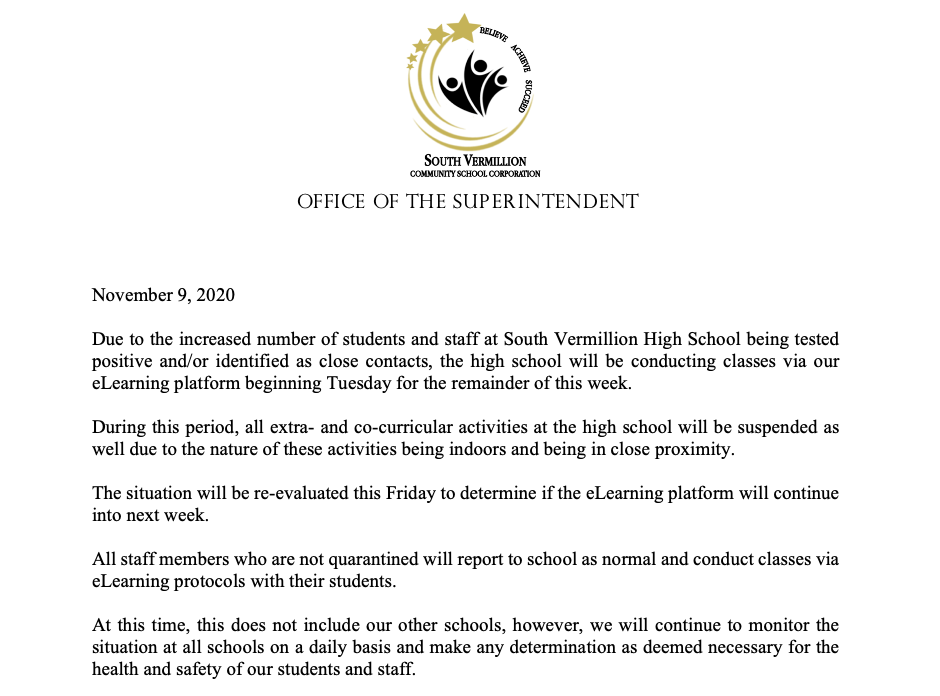 Effective Wednesday, Oct 28th, SV Schools will return to "in-person" instruction. Schools will operate under "Yellow" designation with the traditional format as described in our Re-Entry Plan.

Due to the current situation with COVID-19 in our community and schools conducting instruction via eLearning, the virtual student picture day scheduled for Monday has been postposed. Further details will come at a later date.

UPDATE: Effective immediately, all indoor activities (athletic practices, performance rehearsals, etc...) at all SVCS Schools are postponed for the remainder of this week. We will continue to monitor the community spread with the assistance of the Vermillion County Health Department and update you further on Monday.

🍇🌯🥛🥯All 5 SV schools are serving 2 free meals per eLearning day (breakfast & lunch) from 10am-12pm! Please stop by your child's school to pick-up these FREE meals (or send a friend to get them for you)! Student names are all we need! Help us spread the word! 🍔🥪🥛🍎

Thanks to the CARES Act Grant, we now have additional support and resources available for our teachers as they deliver effective online and face-to-face instruction in Canvas. #teacherleaders #INthistogether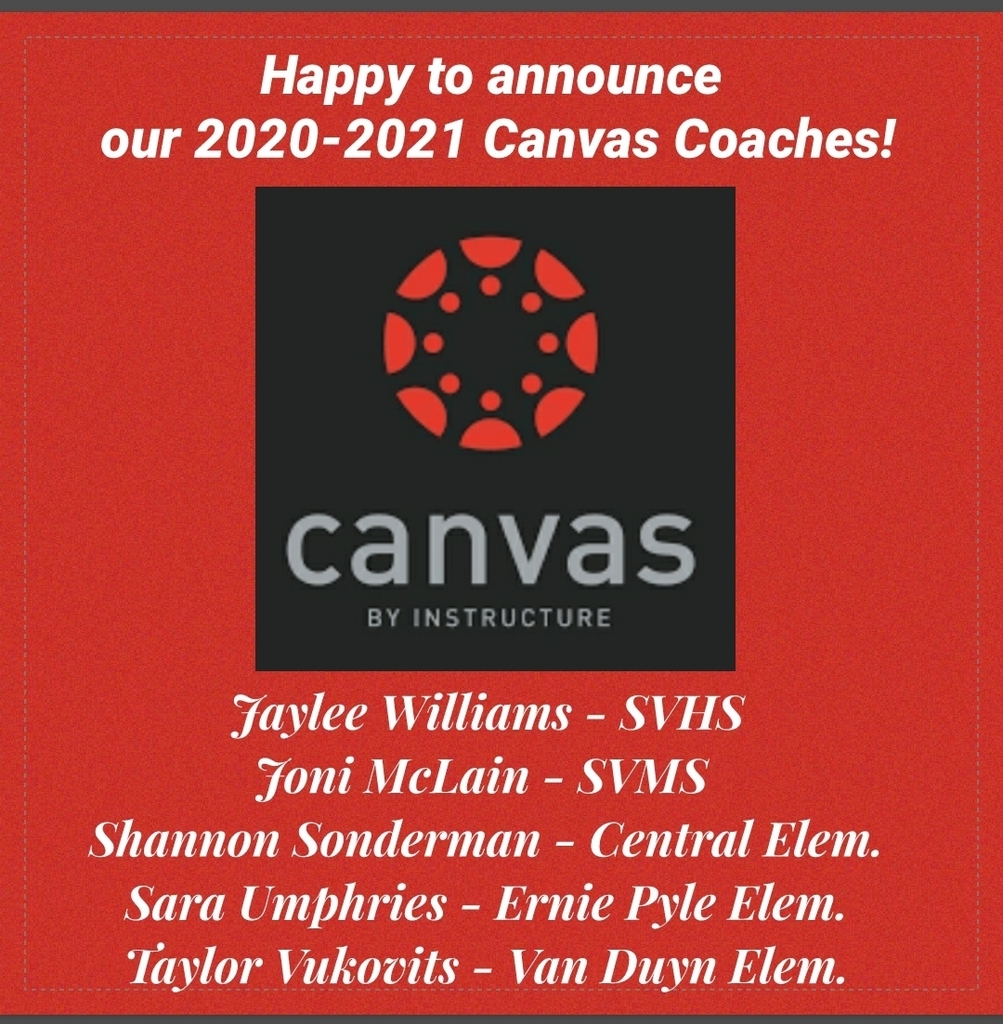 Please see the attached link regarding the SVCS Statement regarding our move to eLearning platform.
https://5il.co/mad1

Due to a substantial spread of COVID in Vermillion Co. the health dept. has advised that SVCS move to eLearning platform beginning Wednesday. More details to come later today as we work through the logistics.

THIS JUST IN! Tell your neighbor! Lunch money, bye! The USDA waiver extensions will allow us to continue serving meals at no charge to all of our students until the end of June 2021 (adult meals, extras, and a la carte items will still have the normal cost). #INthistogether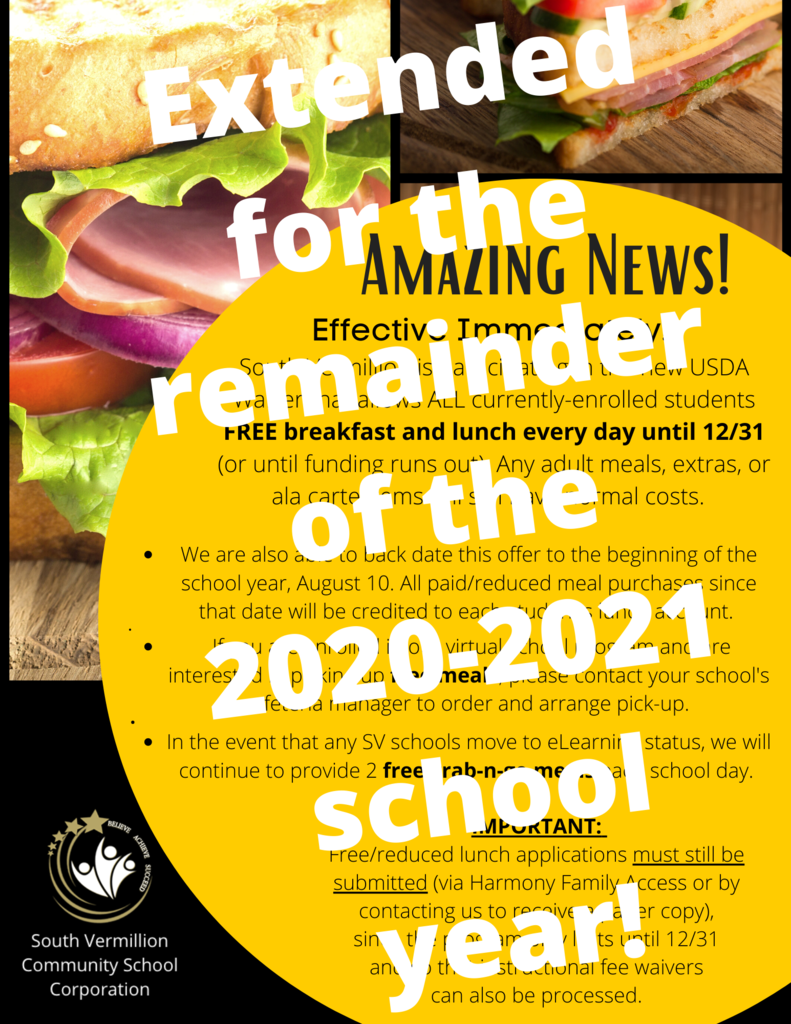 More than 750 handwritten cards and letters are heading to the U.S. Post Office this afternoon in support of our State Superintendent of Public Instruction Dr. McCormick's request to participate in the annual Holiday Cards for Our Military Challenge. Our students designed amazing cards and messages, and even our CTE Welding class participated! From K thru 12th grade, this writing project was meaningful and memorable. Thank you SV teachers and students! #INthistogether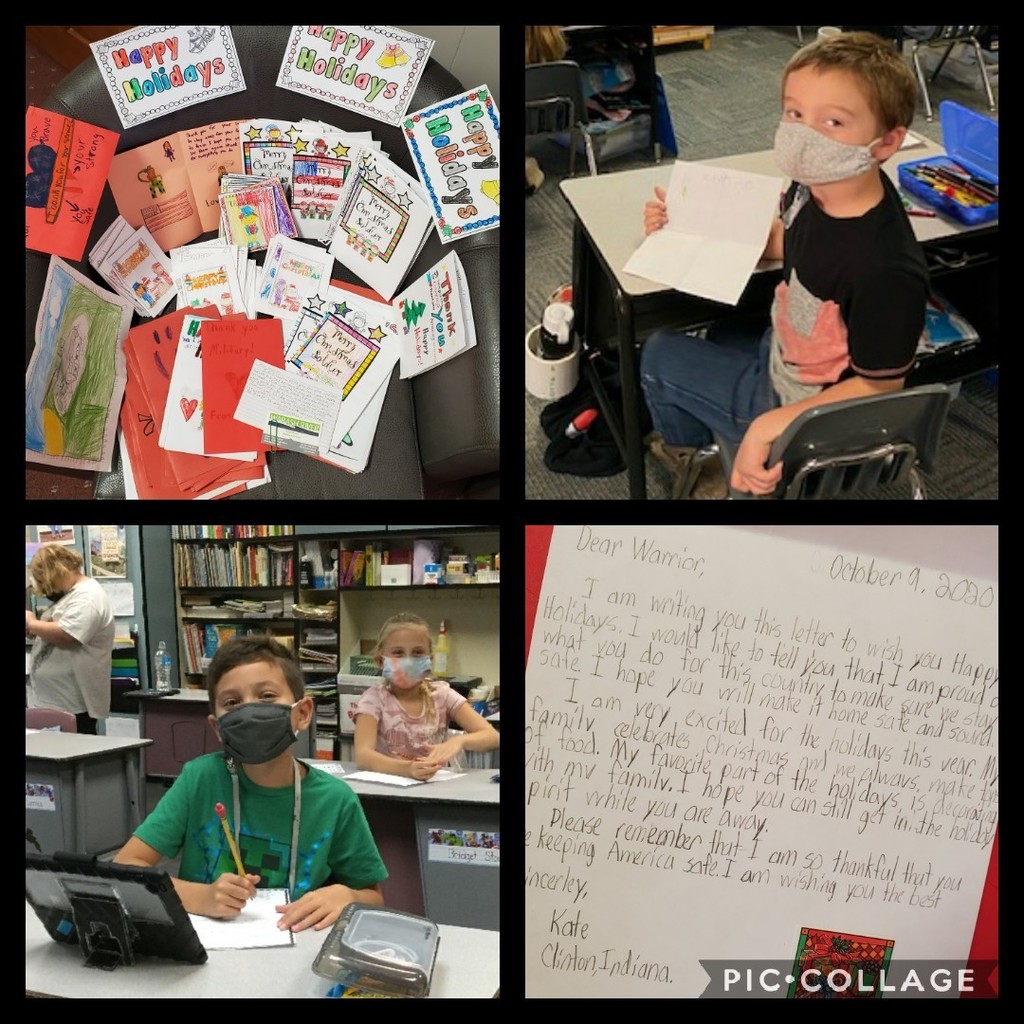 Sending "Friday-before-Fall-Break" vibes from our middle school therapy dog! You can follow Dubley's adventures on Instagram @dubley_svms_school_dog What a RUFF life he has!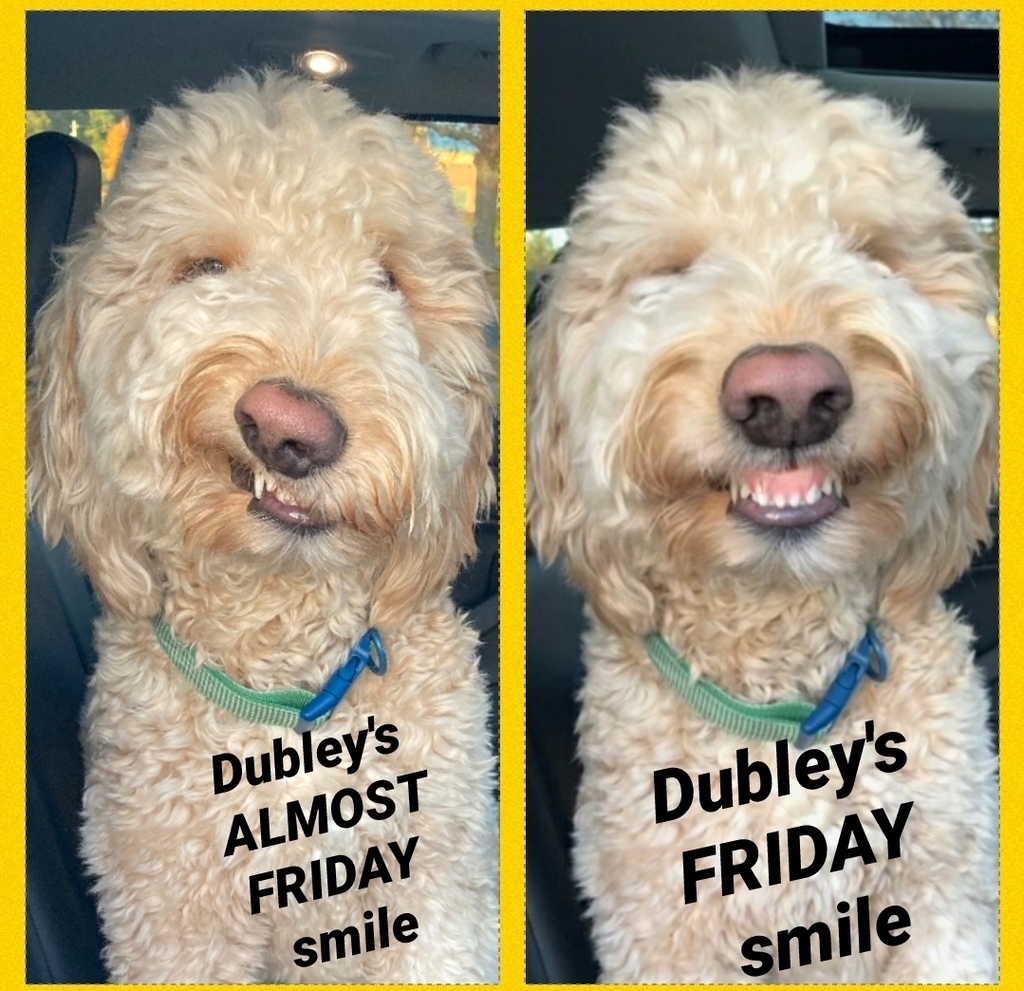 Hoosier students are participating in the annual "Cards for Our Military" project, & these 1st graders from Central are putting the finishing touches on their handmade greetings! These cards are sent to active military across the world. What a great district-wide writing effort!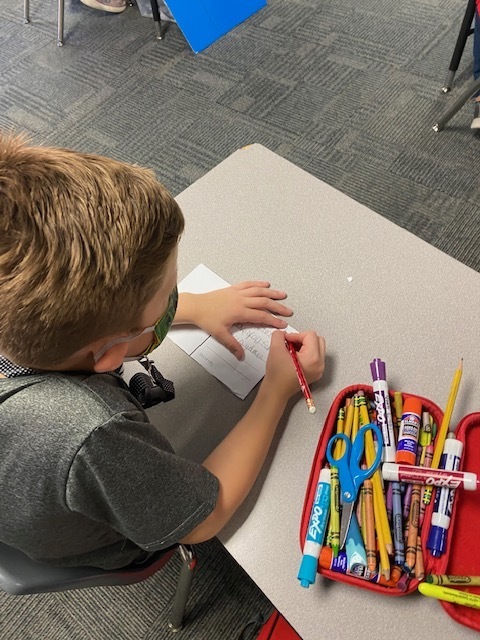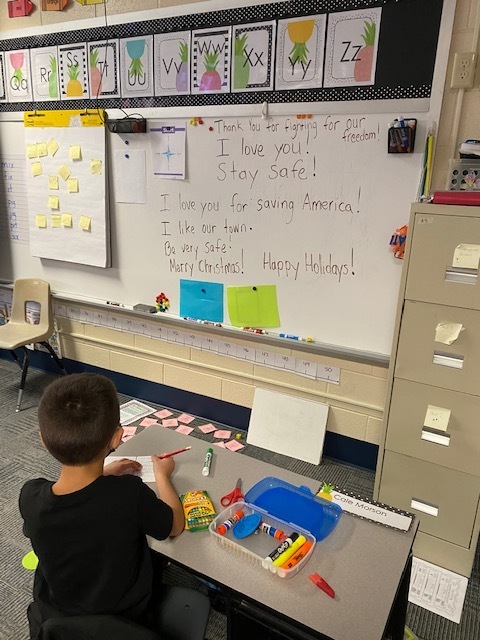 Our cafeteria staff are busy preparing meals for your students this morning. They will have grab-and-go meals ready for pick up, curbside from your child's school, between 10-12. Parents are allowed to pick up meals without their student being present. Simply provide your child's name to our cafeteria staff. Thank you for supporting our SV cafeterias.

From the SVHS Athletic Dept Tues 10/6: Cross Country WRC @ Riverton Parke, Volleyball vs Covington Home 6:00, Indiana Sports Network will be streaming the Homecoming game against Seeger this Friday.

Wed., October 7th is a scheduled eLearning Day for parent/teacher conferences. Each school has shared attendance and academic expectations. See the flyer for details about grab-n-go meals!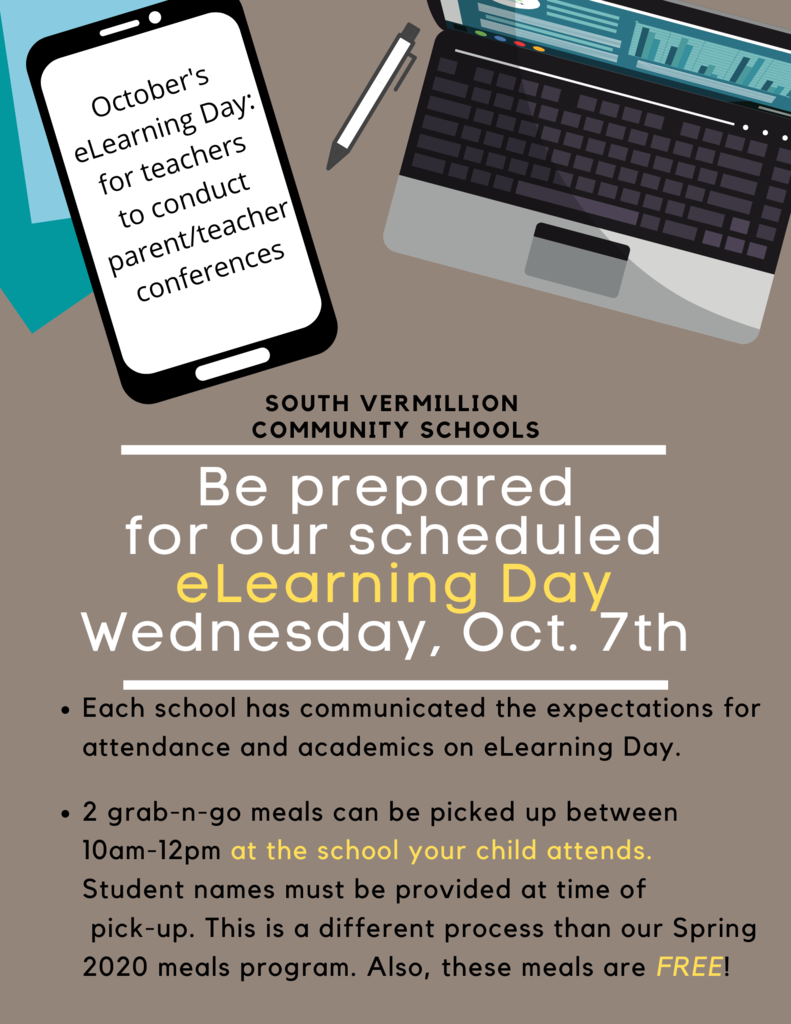 We are excited to announce that, beginning tomorrow, South Vermillion will be participating in the New USDA Waiver that allows ALL students, currently enrolled in our corporation, meals at no charge! This includes breakfast and lunch each school day. Any adult meals, extras or ala carte items will still be your responsibility. We have been informed that this USDA program is set to expire on December 31st or if we receive notice that funding for the program is no longer available, whichever comes first. This program is retroactive to the first student day, August 10th. Meals purchased from this date forward will be credited back to your child's lunch account. I'D LIKE TO ENCOURAGE OUR VIRTUAL STUDENTS TO PARTICIPATE, AS WELL. If you are interested in picking up meals for your virtual student, please contact your child's school and ask to speak with the cafeteria manager for ordering and pick up options. In the event that your child's school should close for eLearning, we will continue to provide two "grab and go" meals each school day. In addition to this exciting news, I'd like to remind you that applications for state assistance are required each school year for those who qualify. If your student receives free or reduced meals and textbook assistance you are still required to complete an application for this school year. If you have not yet done so, please submit a web application through Harmony or contact your child's school for a paper copy. We hope you will encourage your students to eat a nutritious breakfast and lunch at school every day! Stay Healthy!