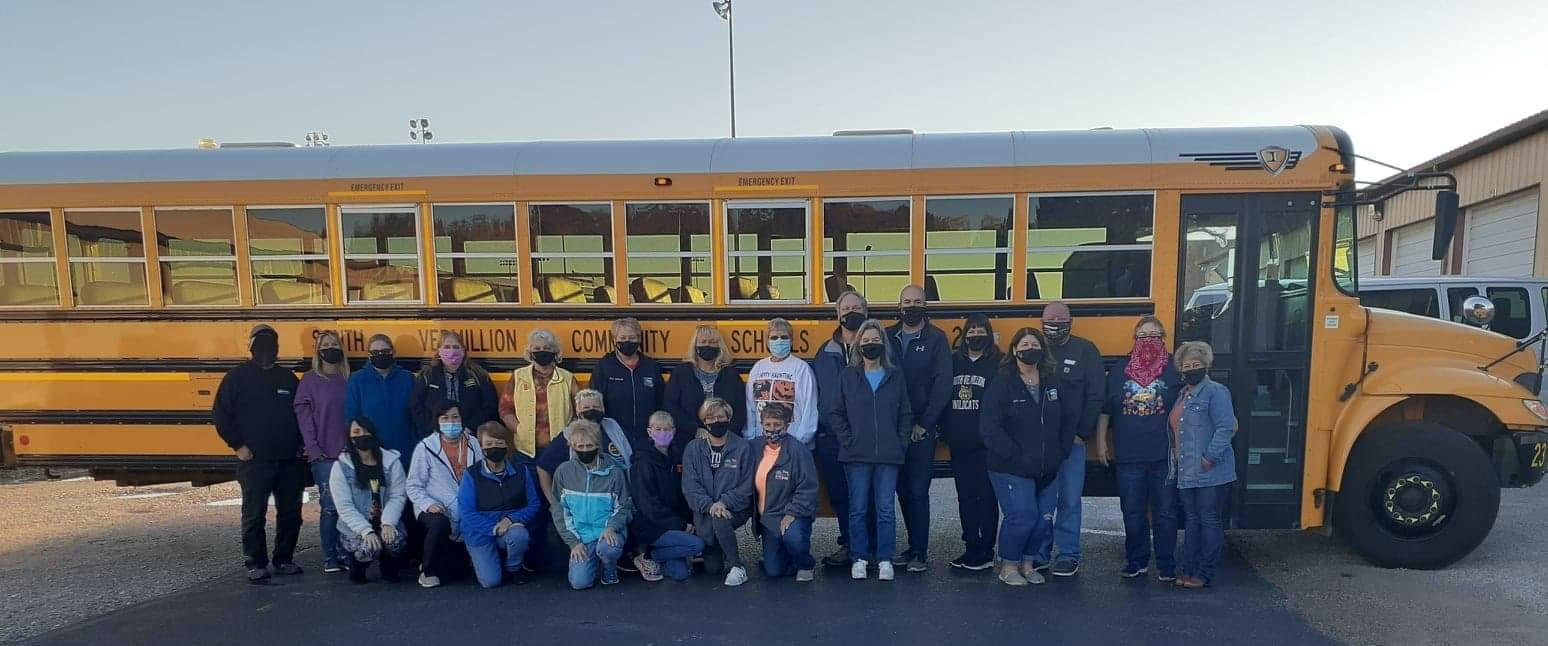 Mission Statement
Our mission in the Transportation Department is to transport your child to and from school in the safest manner possible. The bus drivers at South Vermillion are very dedicated and go the extra mile to ensure that your child is transported safely each day.
Contact Information
South Vermillion Community Schools
Transportation Office
Michele Bogetto, Transportation Director
PO Box 387
770 W Wildcat Drive
Clinton, IN 47842
P: 765-832-2879
F: 765-832-5314
Transportation Information
Bus Route Information(search your address) - eLink
School Bus Rules
Students must be at their bus stop 10 minutes prior to the bus stop time. The bus will not wait for students.

The bus driver may assign seats.

Be courteous to the bus driver and other riders.

Use no profanity.

Do not eat, drink, or chew gum on the bus.

Keep the bus clean. Please use proper trash cans for any trash.

Fighting, pushing, or shoving is prohibited.

Students must remain in their seat until the bus comes to a full stop.

Smoking and the use of tobacco products are not allowed on the bus.

Keep all body parts, including arms and head, inside the bus at all times.

Students must ask the driver for permission to open windows.
Students, who do not wish to follow these rules, may be denied bus privileges. The decision will be made by the Bus Driver, Principal, Superintendent, or the Director of Transportation.
South Vermillion Community School Corporation takes School Bus Safety seriously. We expect all of the students who ride school buses to and from school to follow all of the above rules.
How to Become a Bus Driver
South Vermillion is currently looking for substitute bus drivers. To obtain your school bus license, please follow the steps below:
School Bus License Process
A. To be considered for a bus driver position for South Vermillion Community Schools, you need to submit an application to the Office of Transportation. The application will be reviewed by the Director of Transportation. A background check, pre-employment drug and alcohol test, and interview will follow. The pre-employ drug & alcohol test will be scheduled for you to take.
B. A CDL Physical Examination and Physical Fitness Certificate are required. You can pick up both forms at the Transportation Office. The physical examination and physical fitness certificate must be completed by a medical examiner that is on the National Registry of Certified Medical Examiners.
C. You will take the written exams at the Bureau of Motor Vehicles to get a permit/temporary license for a school bus. Requirements are: General Knowledge, Public Passenger, S Endorsement, and Air Brakes. BMV will need to see the CDL physical before you complete the written exams. You will receive a temporary driver's license for 180 days. Make sure you have a Class B Interstate license (not intrastate or K restriction), with a P (passenger) and S (school bus) endorsement. Also make sure there is no L (non-air brake vehicle) or Q (not bus only) restrictions on your license.
D. Bring permit, CDL physical, and personnel paperwork to the Transportation Office and you will receive hands on training at the Transportation Office to prepare you for the actual driving skills test.
E. Once you feel confident that you are ready to take the test; we will contact the test site and set up a date and time for you to take the skills test. There is a $100.00 charge each time you take the skills test. Our trainer will accompany you when you go to be tested. This test is a Pass or Fail grade only.
F. Upon completion and passing score of the skills test, the grader will update your license to the BMV. It is important that you make sure the correct endorsements have been put on your license before you leave the BMV (see C above for the proper endorsements).
G. The Transportation Office will schedule you to take the three-day Safety School Course conducted by the Indiana State DOE/Safety Office. Once you successfully complete the Safety School, you will be issued a blue card. This blue card will allow you to drive a school bus with another licensed bus driver on the bus with you.
H. The next step in the licensing process is for you to complete the observation/drive time on an actual school bus route with a licensed school bus driver. This form must be submitted to the State DOE/Safety Office. You observe on a bus route for four hours, and drive a bus route for eight hours with another driver on the bus. When this is finished, the Transportation Office will submit all of the information to the State DOE and you will be issued your yellow card. This card is needed to transport kids alone.
I. Your name will be added to our substitute driver list.