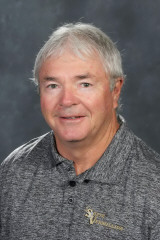 Tim graduated from Clinton High School in 1973 where he played football, basketball, and baseball. Then attended Indiana State University earning a BS in 1978 and an MS in 1983. While he was there he was a member of the ISU baseball team.
Tim began teaching at Turkey Run in 1978 and came to SV in 1980. Over the years he has taught: drivers education, health, physical education, substance abuse, weight lifting, and industrial arts. He has been the SVHS Athletic Director since 2014. He has also been the head varsity football coach (1987-1989) and girl's varsity basketball coach (1981-2014) and baseball coach (1982-present).
Tim has been married to Kim, a science teacher at SVHS, for 25 years. They have 4 sons, TJ, Canton, Cooper, and Easton.
South Vermillion is proud of our athlete teams, when you walk into our gymnasium you will notice all the championship banners hanging on the wall. We are also proud of our facilities. Our maintenance and custodial staff work hard to keep our practice and game fields, our gymnasiums, and our classrooms clean and ready. Teamwork is important everywhere in the building, but the athletic department is the most logical place to find it. We have a lot of valuable people involved. Enjoy your time at South Vermillion and do your best to get a great education. Get involved with our athletes, there is a lot of tradition here.
Remember if it is to be, it is up to me. So do your best and enjoy your time here at South Vermillion High School.
Good luck,
Email: Mr. Terry