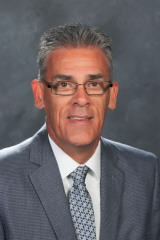 Welcome Back To The 2019-2020 School Year!
Quote of the Week:
" The remarkable thing is, we have a choice everyday regarding the attitude we will embrace for that day. "
from The Bottom of the Pool...

If everyone is thinking "outside the box", are we really thinking "outside the box"? Maybe we need to take it up a notch and go "beyond" outside the box!
"A true leader has the confidence to stand alone, the courage to make tough decisions,
and the compassion to listen to the needs of others. He does not set out to be a leader,
but becomes one by the quality of his actions and the integrity of his intent."
As I begin my 12th year serving the South Vermillion School Corporation as your Superintendent, I can't fathom just how fast the time has flown by. There have been many changes that have taken place in my professional and personal life for which I am so grateful. As a "servant leader", my leadership style is one of being an example to those I lead and to show the benefits of how educators, students, and families can create a climate and culture within their school community that leads to success at every level.
I began my educational journey as an undergraduate at Indiana State University, graduating in 1982. My first "job" was in Effingham, Illinois where I was a high school social studies teacher and coach. It was there that I received my Master's Degree in School Administration in 1987. That's when "Phase II" of my career kicked in and I began my administrative journey. My first year in administration was at Clay City Jr/Sr High School where I served as Assistant Principal/Athletic Director. After that first year, I got the call from Vigo County asking to "come home" and serve the school that I graduated from...West Vigo High School. There, I served as Dean of Students, Assistant Principal, and Principal during the span of 1990-2005. From there, I wanted to expand my horizons and sought out new challenges. I spent time at Danville High School and Vincennes High School. It was there that I completed my Superintendent's certification at Indiana State University.
Fortunately for me, the superintendent vacancy opened at South Vermillion, and, as the story goes, the rest is history. I have thoroughly enjoyed my time at South Vermillion. There is a great sense of pride having this position knowing that I am charged with the education of the students in our community. I considered my role as superintendent with a great deal of responsibility and what to be accountable to all our stakeholders.
From my personal life, I am happily married to my beautiful wife Lorie of 36 years. We love to travel and enjoy the beach, playing golf or just being with each other. Together, we have raised 4 amazing children: Amanda (husband Doug), 32, who now serves as a registered dietician with the Visiting Nurses Association in Omaha, Nebraska; Jason (wife Katie), 31, who is Sales Manager for Approval Payment Solutions in Evansville, Indiana; Heather (husband Dakota), 29, who is a nurse in Evansville, Indiana; and Brandon, 21, a Senior at the University of Southern Indiana, in Evansville. Lastly, we are the proud grandparents of five beautiful grandchildren. Cohen, Jaxon, Stella, Amelia, and Blakely.
Thank you for the opportunity to serve you and the children of our community!
David A. Chapman, Superintendent