EDIT MAIN
Van Duyn Elementary Principal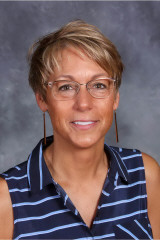 Mrs. Foster is the principal of Van Duyn Elementary. She holds a Master of Education degree along with an Educational Specialist license. She began her teaching career at Southeast Fountain Elementary from 1992-1999. As a teacher she has taught First Grade, Second Grade, Fourth Grade and Sixth Grade. In 1999, she became the principal at Ernie Pyle Elementary until she became the principal at Van Duyn Elementary in 2015.
Mrs. Foster and her husband have an adult son, adult daughter and son-in-law, and a teenage daughter. In her spare time she enjoys spending time with family and friends, exercising, reading inspirational books and researching how to meet student's social and emotional needs.
Motto: "you cannot change the past only the future". She wants students to feel inspired to make a positive difference within their own or someone's life.
If you would like to meet or ask a question please contact Mrs. Foster by clicking on her name below.
Email:
Ronda Foster