EDIT MAIN
SVHS Athletic Director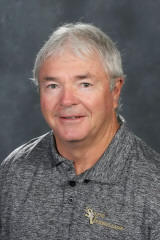 Education:
Graduated from Clinton High School 1973
Played Football, Basketball and Baseball
BS (78)and MS (82) from Indiana State University
Member of the ISU baseball team
Teaching Experience:
1978-1980 Teacher Turkey Run
South Vermillion High 1980-2014
Became Athletic Director in 2014
Subjects taught: Drivers Education Industrial Arts, Health, Phy. Ed, Weight Training, Substance Abuse
2014 - 2019 Athletic Director
Coaching Experience High School
1978-80 Turkey Run Head Baseball assistant Football and Basketball.
1981 2019 South Vermillion:
Baseball Coach: 604
10 times had 20 or more game-winners in a season
3 players that were 1st team all-state
6 players to play in the Indiana North/South Game
8 Sectionals and 9 Conference Championships
Coach of Indiana All-Star South Team 2015 and 2019
Girls Basketball 298 wins:
5 Sectional and 2 Conference Championships
Head Football 7 wins
Defeated Northview for the Coal Bucket Game (first South Vermillion team to defeat Northview in football)
Family:
Married 24 years to Kim, science teacher here at South Vermillion. Four Boys TJ (22) Canton (20)
Cooper (19) Easton (14) and mother Pauline
All together Coaching Experience:
Baseball:
My first experience in coaching was helping a pony league team when I was 11 years old.
Clinton Little League 6 years, Babe Ruth 4 years, All-star teams 3 years (in the early to mid-'70s) Terre Town baseball 3 years, Terre Haute North Little league 2 years. Served on Clinton Little league board three years, Havoc summer baseball coach 17-18-year-olds two years. Coached three All-State Baseball players:
Started first baseball camp
Head Baseball coach 38 years
Football:
Vice President of Youth Football 2 years
5th and 6th grade 2 years Coach (70's)
8th grade 3 years Coach
Freshman 2 years Coach
Assistant Coach 4 years
Head Coach 3 years
Started Punt Pass and Kick and football camp
Basketball:
CYO 2 years
8th grade 2 years
Started first girls basketball camp
Head Basketball Coach 34 years
Two Girls Scored over 1,000 points
Three years in a row was the Head Coach in three different sports, Football, Basketball and Baseball 87 to 89. Best seasons winner of coal bucket vs Northview, Girls Conf. Championship and Baseball Sectional Championship in Terre Haute all in the 1987-88 season,
As a player in High School = 1972 Baseball Sectional Champs, 1973 Baseball Sectionals Champs, 1973 Basketball Conference Champs