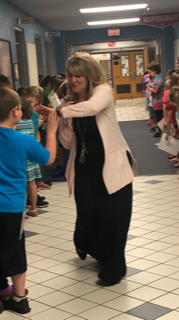 I am elated to be at Ernie Pyle with such an amazing staff, awesome families, and a supportive community. My goal as the principal of EPES is to foster a school culture that is warm, inviting, and where all feel welcome. Your child's education and well-being are very important to me. My staff and I will work tirelessly to ensure all Ernie Pyle Trojans receive the best education possible and are able to seamlessly transition to SVMS. My priority as your principal is to provide our Trojans with an education that is of the utmost quality in a place where they feel safe and loved. I am proud to call myself an Ernie Pyle Trojan.
I have been in education since 1999, which I have taught grades 1, 3, 7, and 8. Education is my passion and I love every minute of it. My husband, Dennis and I live in the country and are raising two boys, Damon and Ethan. In my spare time, I love to be at home with my family, watch my boys in their sporting events, read, garden, relax on the beach, and cheer on the Wildcats!
Feel free to contact me at any time via email: [email protected] or by phone: 765-832-7718.
It's a great day to be a Trojan,
Mrs. Kimberly Kesler