Last Updated 8.28.20
Jenny Fossi
Monday, July 20, 2020
Effective 8/31/20 - New Login for Edmentum: https://www.edmentum.com/sislogin
A Letter from the CEO of Maestro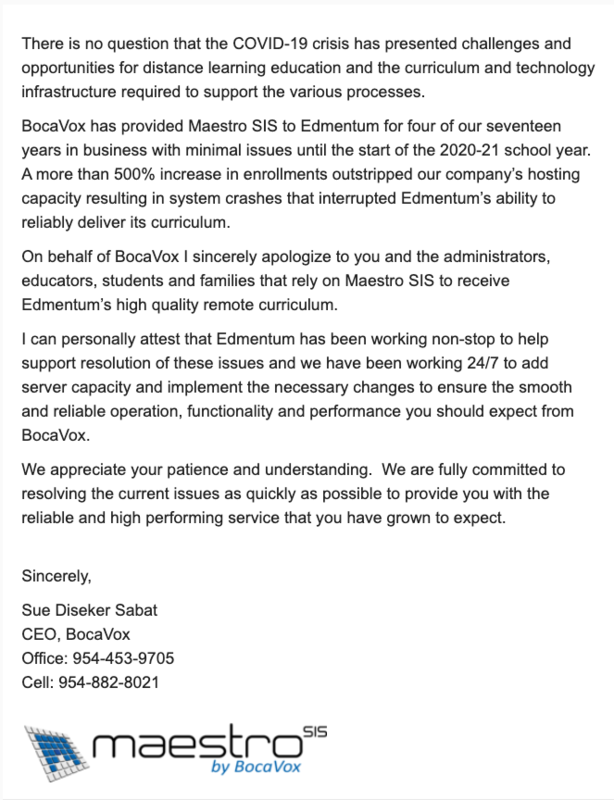 Check the operating status of Calvert Academy (dashboard)
New! Navigating Calvert Academy on iPad (Elementary School)
Parent Getting Started Resources - Calvert Academy
Please review the South Vermillion Virtual School Program document for more information. All you ever wanted to know about the SV Virtual School Program is contained in this document.

The application is now closed for Virtual School enrollment for SV students.
EdOptions Academy Elementary Welcome Letter - posted 8/23/20
Letter Regarding Course Enrollments Processing Slowly - Mr. Chapman
(Password: DA4Pf#3J)
Exact Path Parent Guide - click to view parent resources
Slides with Important Information
Need Assistance?
765-832-5300
support.edmentum.com - Edmentum Support Website
Edmentum Support: 1-800-447-5286
iPad Specific Issues:
765-832-5300
Help Getting Started
View the video below to see how students login to Edmentum. You can pause this video at any time and can also expand to view full screen.
How to Sign into Google so Students can View Youtube Videos (video below included)
If you can't see the video below view the slides here.
Important: If you get an error "you are already logged in", go back to Edmentum course page and try your 2nd course. There is currently a technical issue with Edmentum. If this still doesn't work, then logout and log back in. Be sure to have only 1 browser tab of Edmentum open.